After many months of titanic work of the entire team, on February 11, LabAir sp. z o.o. operator, part of Farada Group sp. z o.o., was the first in Poland to receive a permission to perform commercial medical flights by unmanned aerial vehicles out of sight, in an automatic way, allowing to manage the flight from the Air Operations Management Centre. The first medical transport flights will begin on Monday, 21.02.2022.
This had required the preparation of dozens of documents, hundreds of pages of instructions, procedures and processes, as well as flying several thousand kilometres by new platforms and developing new, absolutely unique procedures for medical flights using BSP.
This is no longer research and testing. LabAir will perform repetitive, daily flights to reduce the involvement of couriers in cars. Thanks to electric propulsion, such transport significantly reduces CO2 emissions into the environment.
The first medical routes will be organized between the ALAB laboratory centre on Stępińska Street and hospitals in Sochaczew and Pułtusk. Further routes – Łomża, Ostrów Mazowiecki, Ostrołęka, and PKiN – are being approved. 
The transport of laboratory materials, which are sensitive to temperature, has been our priority since the Group was created. We realise, especially nowadays, in pandemic times, how crucial it is to transport material for testing quickly. Our solutions are the answer to this need – states Adam Cudny, Chairman of the Supervisory Board of Farada Group sp. z o.o.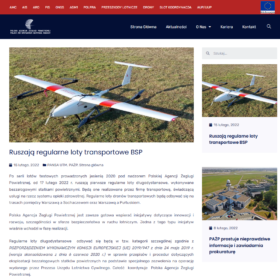 We would like to thank all the organisations involved in this project – the whole team of Farada Group, LabAir and Alab laboratories, as well as two institutions, without which we wouldn't be able to succeed:  Polish Air Navigation Agency (Maciej Włodarczyk and his team) and the Civil Aviation Authority (Paweł Szymański and his team).
You can already read about our success on the official website of the Polish Air Navigation Services Agency.
Warsaw 15 February 2022, Farada Group